Description
G allows you to quickly experiment the effects of the Universal Gravitation by adding bodies into a simulation, seeing how they react to each other in real time, all in a true multitouch environment. G offers a vast universe to add your bodies into, potentially allowing you to create stable planetary systems, binary star systems, and other multiple-body complex systems.
History
G became a project while I was watching episode 4 of Carl Sagan's Cosmos series. Those amazing old school animations really got me, I had to make those interactive.
Features
Realtime gravity simulation using Newton's Law of Universal Gravitation.
Create, destroy, modify existing systems.
Multitouch and gesture based user interface.
Save / load / export / import your built systems.
Features several factory presets, including the Solar System.
Create informal systems for fun, or get precise by using numerical input.
Logo & Icon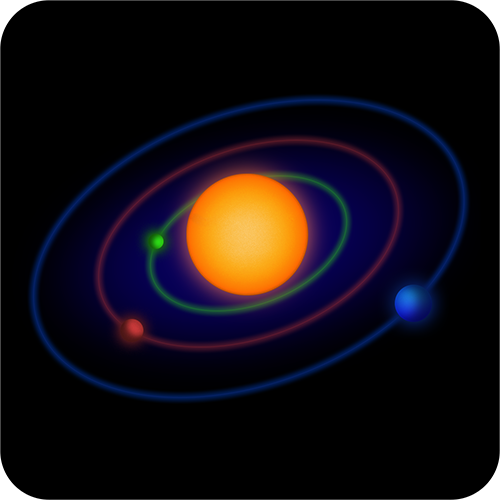 Awards & Recognition
G has not received any awards or recognitions yet. Please check back later to see if things change.
Selected Articles
G hasn't been the subject of any interesting article or (p)review yet. You could be the first!
Request Press Copy
Please fill in your e-mail address below and we'll get back to you as soon as a press copy is available for you.

Additional Links
What started it all
Carl Sagan's Cosmos youtube.com.
Made With OpenFrameworks
Thanks to the incredible comunity behind it! openframeworks.cc.
About Oriol Ferrer Mesià
Boilerplate
Hello this is Oriol. It's hard to define what I do; I like working with digital media and technology. I also enjoy messing around with new ways to entertain and engage people into playful experiences. I am an INTJ.
More information
More information on Oriol Ferrer Mesià, our logo & relevant media are available here.
G Credits
Oriol Ferrer Mesià
Idea, design, development, assets, sound effects.
presskit() by Rami Ismail (Vlambeer) - also thanks to these fine folks