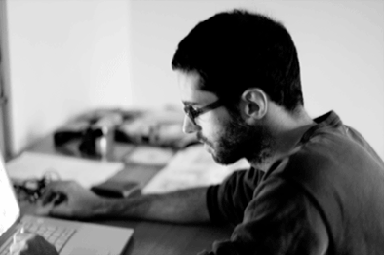 Photo by Yianni Hill
Me
Hello, I'm Oriol. I was born in Barcelona (Spain) in 1979. It's hard to define what I do; I like working with digital media and technology. I also enjoy messing around with new ways to entertain and engage people into playful experiences. I do a lot of those through the art of computer programming.

My favorite tools are Xcode, OpenFrameworks, Terminal, Arduino, Photoshop, FinalCut, After Effects, Coda, Matlab, 3D Max.
Studies
Fabrica (Benetton's communication research centre), Treviso (Italy)
Visual Design Masters at SPD Milan (Italy)
Computer Science at La Salle Bonanova, Barcelona (Spain)
Multimedia Engineering at La Salle Bonanova, Barcelona (Spain)
Spoken Languages
Catalan, Spanish, English, Italian.
Contact
Oriol Ferrer Mesià
+34 653 92 53 47
oriol [at] uri.cat
oriolf [at] gmail.com
printFooter(); ?>