What is it?
Fish is an aquarium simulator. It allows you to add fish to an underwater environment and customize them. Fish show complex behavior. You can feed them, see their evolution as they grow, use different cameras to track them, and save different aquariums for later use. Fish can also be shared with others over the local network using Rendezvous.
Don't worry about your fish; they are saved when you leave the application... The save function is only intended to be able to save multiple aquariums.
Media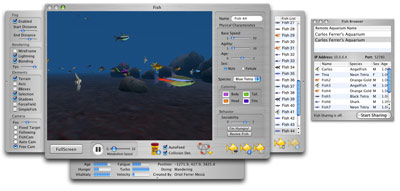 Is it free?
Yes! If you really want to, you can always contribute to my Pay-Pal account. If you want to include it into any CD-ROM or other media to mass-distribute it, please email-me!
Special Thanks
I'd really like to thank Pixeljerk (how can I contact you?) as I "stole" one of his superb icons in his icon pack. Also, thanks to the developer of Atlantis, a Glut example found on Xcode examples which has been very useful to me.... Some might recognize the shark model! Some other models are taken from http://www.toucan.co.jp/ and then made lowpoly.
Mentions
Version History

v1.5 - 12/09/2007

	-full screen anti-aliasing (FSAA). Stay on 1.4 if it's too slow on your mac.

v1.4 - 18/08/2007

	-Can now render fish names over them.

v1.3 - 22/04/2006

	-Universal Binary

v1.2 - 27/04/2005

	-Added Growl Support. Will ask to install Growl if not present...
	-New and Born fish get random names now.
	-Mac OS X 10.4, and 10.3 compatible again. (sorry!)
	-Fixed some bugs (egg state would also draw fish sometimes?)

v1.1

	-Tiger Compatible! (Fixed weird colors).
	-Fish only see food when it's in their field of view now.
	-Might be Tiger only; Cant test right now...

printFooter(); ?>