What is it?
Scalare is a
Twitter
client built as minimal and unintrusive as possible. It shows your friend's tweets as
Growl
notifications. It runs on Mac OS X 10.5 and above.
Scalare is built with simplicity in mind. It is meant for the casual twitter user that doesn't want to be distracted too much. I chose a windowless UI because that's how I think Twitter should work; minimal messages you read and keep going. Feel like sending a tweet? Just press the easy key-combo, type what's in your mind, and you are back to work.
It allows you to send tweets without stopping your workflow. And because Scalare uses Growl, the customization options are endless. Go into System Preferences and set your custom display styles under the Growl preference pane.
How to use it?
Scalare resides in your menubar; it doesn't take any precious space in your Dock. Scalare will fetch new tweets every 90 seconds, and will display them through
Growl
. Click on a notification to reply to a tweet.
To send your tweets, just press
CTRL + ↑
or your favorite keyboard combo and the Scalare input window will show up. Just type in your tweet, and press enter. Done!
To send a Direct Message, use another key combination, and the DM window will show up. You know what to do next.
Tips
Alt + click on a Notification "cross" closes all Growl notifications at once.
Lots of customization is available through Growl. Set different notification styles for different kind of updates (replies, DM, updates), including custom sounds. Go to the Growl Preference Panel under System Preferences to set custom behaviors for the Scalare Application.
Known Issues
Requires
Growl
to work properly. It's embedded into the application, will ask to install if not found.
*And remember, This is beta software! Scalare was first coded in under 24 hours. Don't expect extreme polish.
Is it free?
Yes! If you really want to, you can always contribute to my Pay-Pal account. If you want to include it into any CD-ROM or other media to mass-distribute it, please email-me.
Version History


v1.0b61 - 4/1/2010

	-Fixed some old references to the old app name in the UI.
	-Reinterpret '<' and '>' to show properly on tweets.
	-Fixed some typographic errors.

v1.0b6 - 3/1/2010

	-Renamed to "Scalare" due to trademark issues.
	-Fixed the whole ID overflow thing. No more missed tweets.
	-Added visual feedback when replying to a tweet.
	-Added Oauth authorization, got rid of login & password authorization.
	-Scalare's windows fade in and out when opening and closing.

v1.0b53 - 12/9/2009

	-Fixed ID's bug where no updates would be shown.
	-Growl notifications are sorted by type (reply, DM, etc).
	-Growl notifications have more appropriate titles.
	-Less verbose.
	-Updated to last Growl Installer framework.

v1.0b52 - 31/8/2009

	-Error Messages are not set as sticky any more.
	-Updated embedded Growl-WithInstaller Framework to 1.1.6
	
v1.0b51 - 21/6/2009

	-Fixed problem related to ShortcutRecorded that caused
	 crash at launch on PPC machines
	-Fixed bug whre some DM would not be shown

v1.0b5 - 21/6/2009

	-Fixed Twitpocalypse bug by updating MGTwitter Engine.
	-List and send Direct Messages 
	-Updated embedded Growl-WithInstaller Framework to 1.1.5
	-Replies are really replies now (sorry!)
	-Finally Show replies (@) and Direct Messages
 	-Keyboard Shortcuts are now configurable
	-Added keyboard shortcut for Direct Messages
	-Handle tweets with multiple URL's
	-Input windows always on top (wont get lost anymore)
	-reply to a Direct Message by clicking on it
	-More Growl categories to allow better customization
	-Report when reaching twitter limits
	-Display order options (ascending, descending)
	-Updates and replies shown chronological order
	-Option to set number of updates to fetch
	-Standard Defaults
	-I suspect all this will require OSX Leopard (Sorry!)
	-Preferences affect menu looks (shortcuts and # of tweets)
	
v1.0b4 - 1/3/2009

	-notify of available Scalare updates through Growl.
	-request updates through last ID instead of last Date.
	-added option to get the latest 15 tweets 
	 (even if they are old)
 	-bugfix: no tinyUrl conversion if url is short enough (thanks Andy!)
	-bugfix: No masking needed on images with alpha channel
	-bugfix: no coreAnimation Layer needed >> less memory used.
	-bugfix: corrupt images from twitter could make a notification
			 become nonSticky.

v1.0b3 - 22/2/2009

	-TinyURL support; pasted links are shortened.
	-Input field allows more than 140 chars, but will cut at 140 when sending.
	-Input field informs of current tweet length.
	-Delayed notifications option; new Tweets show one after each other.
	-Smaller memory and cpu use.
	-Clicking on a Notification with a link will open that link.
	-Added tooltips to preferences window.
	

v1.0b2 - 21/2/2009

	-Check for Scalare updates.
	-Tweets made with Scalare should be stated as so.
	-Don't show duplicated notifications when sending a tweet.
	-Fetch for updates every 90 seconds instead of 5 minutes.
	-Due to a possible bug in Growl, you might not get notifications. 
	   Please make sure you start Growl from System Preferences.

v1.0b1 - 19/2/2009

	-First public release.


Media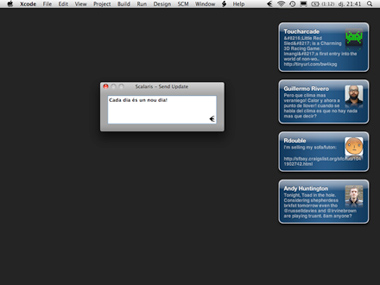 printFooter(); ?>