What is it?
This little app let's you show your current desktop to anybody. To do so, your buddies only have to type your ip address into a web browser. If your buddies are in your local LAN, they can use the Bonjour services (available in Safari) to locate your screen.
Example: http://10.0.0.4:2000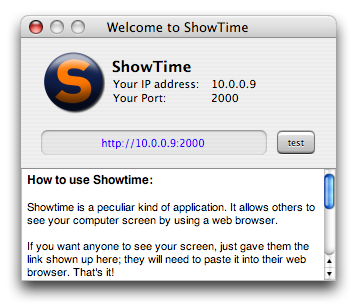 Isn't it very similar to RemoteCapture?
Yes! It's based on remote capture, but this time I built the application in Cocoa-Java Cocoa , so that the application has a nice preferences panel and some other improvements.
How to use it?
Just double-click it! You can open the preferences to set the port where will the service be available, the served image quality, decide to advertise the service or not using Bonjour, and activate a sound alert.
Is it free?
Yes! If you really want to, you can always contribute to my Pay-Pal account. If you want to include it into any CD-ROM or other media to mass-distribute it, please email-me!
Known Issues
Seems to crash every now and then, there must be some issue I don't see with the threading.
Version History

v2.0 - 13/04/2007
	
	-Rewritten from scratch, got away from Java and the app is 
	 100% Cocoa now. This makes it Universal Binary as well.

v1.0 - 21/08/2005
	
	-First Public Release.

printFooter(); ?>