What is it?
This is my humble tribute to Tunnel, an awesome arcade game one can play on an hp48 calculator. Saved me from listening to some very boring lessons back in university. Simple, responsive and addictive. What else does a good game need? So I decided to make a mac port of it, but this one can only be controlled by tilting your laptop.
Update:
you can now play Tunnel on your iphone too!
Get it from the
App Store
or read more about it
here
.
How to use it?
Double click to launch. Tilt your laptop to control the spaceship through the tunnel.
Is it free?
Yes! If you really want to, you can always contribute to my Pay-Pal account. If you want to include it into any CD-ROM or other media to mass-distribute it, please email-me!
Known Issues
Needs Leopard to run. Will crash if run on Tiger. Needs a SMS (Sudden Motion Sensor) enabled mac laptop to control the spaceship.
Version History

v1.1 - 11/12/2007

	-Difficulty increases over time.

v1.0 - 8/12/2007

	-First Release
	

Media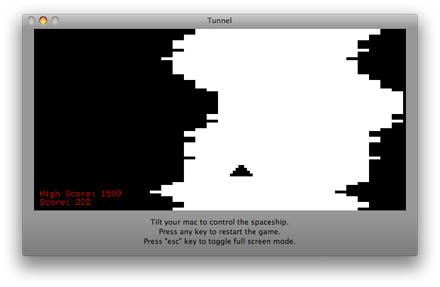 printFooter(); ?>