What is it?
FlickrGet is a small application built to make the process of getting images from a user's Flickr Set easy.
How to use it?
First find the set from the user you want to download; to do so just browse through the flickr site till you get to the user Set you want to download. The URL in your web browser should be similar to this:
http://www.flickr.com/photos/armadillu/sets/1335736/

Then copy this URL and paste it into FlickrGet; choose a name for your download and type in your Flickr login and password (Only non-yahoo logins work for now). You can then start the download, and all the pictures from the set will be downloaded to a folder besides the FlickrGet application.
The login and password information are optional, but some Sets are set to private so they can only be seen/downloaded if the user allows guests to see them. The photo Sets will be downloaded at the maximum available resolution, but flickr only allows this if you are logged in (and that will only happen if you put in your login and password).
Is it free?
Yes! If you really want to, you can always contribute to my Pay-Pal account. If you want to include it into any CD-ROM or other media to mass-distribute it, please email-me!
Known Issues
Yahoo flickr logins don't work.
This app is no longer useful
, as flicker migrated all their users to Yahoo.
Version History

v0.8 - 22/04/2006

	-First Public Release.

Screenshot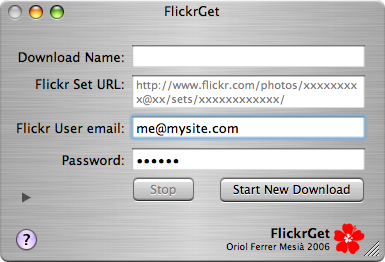 printFooter(); ?>